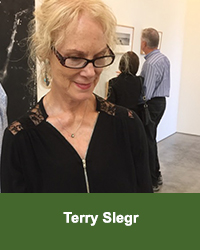 Ms. Slegr has worked in the hospitality executive search industry as a Web site consultant and researcher, PR writer, and Recruiter. Skilled in every type of hospitality executive search assignment, Terry has been a top performer with the Los Angeles office over 15 years. She has successfully placed Executive-level professionals for some of the finest hotels, resorts, restaurants and private clubs in the US. Her areas of specialization include General Managers, Executive Chefs and Spa Directors; she also works with clients to find Executive Housekeepers, Food & Beverage Directors and other staff.
Terry graduated from Michigan State University and studied at the Sorbonne in Paris before moving to Ithaca, NY. For five years, she held the position of Assistant Executive Director at Student Management Corporation, a highly successful non-profit purchasing cooperative at Cornell University.
Her next stop was Los Angeles, where her passion for music led her to start booking concerts from the ground up at the Sportsmen's Lodge Restaurant in Studio City. As the founder and producer of the highly successful concert series, "Bound for Glory," she brought in internationally famous recording artists, was the emcee for all the shows and managed every aspect of the series. In this role, she acquired further experience helping to manage special events for as many as 500+ music lovers.
She continues to support all types of local music, and loves to travel to as many places as possible with her family and friends.