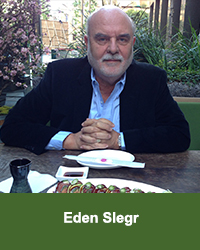 Mr. Slegr has been in the hospitality recruiting and consulting business since 1987 and is principal and founder of Global Hospitality, Inc., Los Angeles. Prior to his recruiting career, Mr. Slegr was partner and General Manager of the Sportsmen's Lodge Restaurant in Los Angeles, Executive Director of Student Management Corporation at Cornell University, and worked with Hyatt Hotels and Swissotels in Europe. Mr. Slegr's background includes management positions within the hospitality industry in food and beverage, finance, and as General Manager.In 1998, Mr. Slegr co-founded Hospitality Careers Online, Inc., (www.hcareers.com), served on the Hcareers' Board of Directors, and consulted extensively on operational and Internet marketing initiatives.

Mr. Slegr has a BS degree from Cornell University School of Hotel Administration and previously attended the American College of Switzerland, where he majored in international business. Mr. Slegr speaks fluent Czech, functional French, and a bit of Spanish.

In addition, he enjoys public speaking, career counseling, and has served on the Hospitality Financial and Technology Professionals (HFTP) Board of Directors for the past several years. Eden enjoys cooking, reading, swimming, traveling, and time with his wife and family.