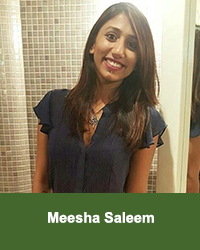 Meesha holds an honours' degree in Human Resources Management from York University, Toronto. She's currently enrolled at George Brown College pursuing a language certificate in Portuguese.
Through a study abroad course in her 3rd year of school, she recognized the love and passion she's had for the hospitality industry all her life. This led her to pick a career where her field of studies combines with the industry she loves ~ Hospitality Recruitment. She helped her parents recruit for their restaurants for years so she knew it was something she could do well.
To be certain about her decision to make a career in Hospitality and gain more knowledge about hotel operations, Meesha took a position at The Pantages Hotel in Toronto. She filled the role of Front Desk Agent for a year before her university courses ended.
Now, she is a part of the Global Hospitality family and couldn't be happier about her career choice. Fulfilling her WHY; i.e., "helping people – help themselves to progress in life" is what makes her get up and love her work every day. In her free time, you can find her networking in some café in downtown Toronto!