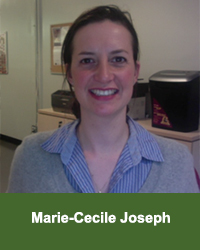 Marie-Cecile Joseph graduated in Hospitality Management in 2000 from EMH, Strasbourg, France.
She has gained experience throughout Western Europe and Middle East working for renowned hotel companies such as Hyatt in Egypt, 
Four Seasons in London and Fairmont in Dubai, to name a few.  
She has 5 years of operations' experience and has held management positions within the Food & Beverage department.
She then specialized in recruiting for retail and hospitality industry in Dubai with one of the largest retailer in the Middle East, Al Tayer Group.
Marie-Cecile joined Global Hospitality in March 2016. With a great network in the luxury hospitality segment and her excellent relationship skills, Marie-Cecile brings expertise in recruiting for Hotel Management positions and Food & Beverage retail. 
She also brings bilingual skills to the team since French is her native language.
With a "can-do" attitude, Marie-Cecile is result-oriented and will ensure that her clients' satisfaction is a top priority.
Marie-Cecile is also proud mother to her three children.